Attention Coaches, Healers & Service Providers: If you have a signature service and your marketing strategy isn't attracting an abundance of the attention and authority your business needs...
New Book Writing Workshop Helps You Get Your Message Out & Wow Your Audience With Your Expertise… Guaranteed!
Isn't it time you write the signature book that best represents your vision and the message you want to share? Even if you've never written a book before, now is the time…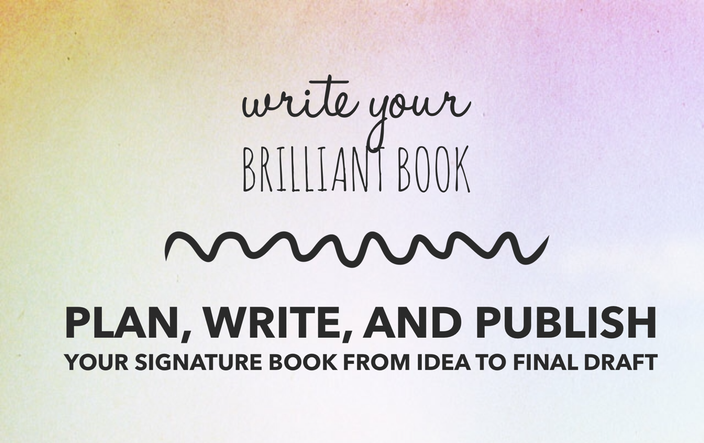 Ask anyone who has become an author of their own signature book, and they'll tell you-your own book can enliven and expand your audience like nothing else.

Sure, you've been blogging and building your list, but with the usual marketing channels getting so saturated, it's difficult to get people to remember your name, never mind want to work with you.
But write a signature book, and suddenly a new world of opportunity opens up.


More Than Just Your Name On The Cover


Writing a book isn't just about selling on Kindle, or book launch tours. A signature book is the best way to authenticate your value as a coach, healer or service provider.
Think about it: A book is your chance to make a lasting impression.

Imagine the ability to:
Gain the authority to charge more - the authority of writing a book raises the stakes so you can work with clients who are more serious about what you do- and you are rewarded accordingly with premium rates
Get speaking engagements - what in-demand speaker DOESN'T have a book? Writing a book helps you become known as a leader in your field of expertise, empowering you to get higher profile gigs and charge more for them
Build your list and generate high quality leads for your business - use your book as a list building tool brings you high returns with the ability to step people through a sales funnel that takes them from cold to hot and ready to buy
Personal satisfaction - there is a certain restlessness of soul that drives us to say what we have to say. This is especially true when you have a message that will help others.
Build your body of work - writing a book is the perfect way to share your knowledge and build a legacy that you become known for.


Deep down you know that with a signature book, you will attract an abundance of these new possibilities, and so much more.
Not only that, but you can let your personality shine and freely share your opinions. There is nothing more magnetic than creating a sense of intimacy with your audience, and no better way to give them the chance to get to know, like, and trust you the way writing a book will.


Mo' Publicity, Mo' Clients, Mo' Money


But the biggest benefit of writing and publishing a signature book is the abundance of attention and authority you'll finally attract.
Not only will this help you make an impact with your work, it'll help you create the success you need to make a difference in the world.

After all, when high traffic bloggers, podcasters, and magazines look for experts to interview on a subject, who do they look to first?

Authors.
And more publicity means more clients, and more money in your wallet.
The thing is…


First You Have To Write The Book


No one ever gets invited on stage with Oprah to discuss the book they've been thinking about writing some day. No one you try to network with at a business conference can share the book you've just been thinking about writing.
That's right, first you need to actually write your book!
And that's where so many people get stuck:
"I don't know what to write about in a book"
"Everything I write seems so boring"
"I don't like spending a lot of time writing"
Sound familiar? You can waste time writing a list of excuses. But deep down you know that's all they are. Excuses.
You can choose to hide behind these excuses, or you can choose to reap the rewards publishing a signature book can bring.
Introducing the…


Write Your Brilliant Book

Plan, Write, and Publish Your Signature Book From Idea to Final Draft


You will get the help and inspiration you need to overcome all the hurdles you face in this highly actionable four-week course. Not only that, but it will remain a go-to resource for you to refer to again and again as you master the writing techniques every author needs.


Module 1: Choosing and researching your big idea

First we'll start in on the most important decision an author makes: what to write about.
You know your work inside and out, and but no matter how long you've been coaching, it can be hard to know how to translate your work into a great book. With this in mind, module 1 includes…
How to choose your Big Idea — an irresistible Big Idea compels your audience to read cover to cover
The best book type for you and your business — create a powerful outline for your signature book
The structures your favorite authors use — and why they work best
Why less is more — and how an "easy" read can communicate your vision more clearly
The secret to loving the writing process — learn to love the process and it will be easy to write!
Module 2: Writing Roadmap: The Right Way To Outline Your Vision

We start the writing process by creating a powerful outline for your book and finish up an necessary research. This step makes it super easy for you to write. In module 2, we'll go through each step, including…
How to pull the perfect topics from your signature offering
The amazing research process that guarantees your book reaches the right audience
Six simple questions to help you align your book and your unique brand.
Why finding your authentic writing voice matters right now
The #1 way to write well and start off way ahead of most other authors
Module 3: Creating Flow Between Chapters

This is where we go from simply well-organized to making your book truly spectacular to read. Writing a book that flows from one section to the next will pull your readers along and leave them wanting to connect with you for more.
In module 3, we'll get into the details of your book's structure, including…
How to craft chapters so your book is enjoyable to read and hard to put down
Use this popular storytelling technique to keep your readers engaged
Real examples of a book in progress so you don't miss anything important

3 narrative types to borrow from master fiction writers

The simple strategy for crafting calls to action in your book
Module 4: Author Your Success- Write, Edit, Publish, Launch!

You've got your research done, your message clear and the structure details, now it's time to get down to business. Module 4 is all about getting it done and into the world, so let's dive in!
How to design a writing schedule that works — stay on track and get your book finished
What to do about length — and why longer may not be better
How to self-edit your book like a pro — watch out for these four common mistakes

Proper book formatting — what you need to know for different publishing options
The secret to scheduling your book launch — congrats, you're a published author! Now it's time to get noticed.


Finally You Will Become A Published Author!


There really is nothing that can grow your business and spark a wildfire for your message quite like a book.
With your own signature book, new opportunities suddenly come knocking, such as:
Interviews with press, podcasters, and magazines
Speaking gigs on recognized stages and popular events
Easily sell out your signature services or coaching programs
An abundant stream of clients wanting to work with you (two words: waiting list!)
The ability to charge more for your coaching programs and other products
Don't forget, a major self-esteem boost every time you pick up your book!
Nothing can bring options like these to your door as quicky as publishing a signature book will, so don't wait any longer. Get this step-by-step guide today, and you'll be holding your book in your hands and staring at your name on the cover before you know it!
See you on the inside,
Jenny Sjolund
Business Storytelling
& Book Writing Coach
Ghostwriter to the stars (that's you!)
The Story Difference

P.S. This course is backed by my 100% guarantee. If you are unsatisfied with your purchase, simply contact me within 30 days for a fast, hassle-free refund.